Reimagining HVAC Maintenance
Our Smart HVAC Asset Maintenance application allows you to efficiently manage air-conditioning maintenance and have relevant information at your fingertips when you need it.
This unique patented triage maintenance response application uses remote data harvesting, machine learning, and maintenance workflow automation to accurately identify and diagnose potential issues and faults as, or even before, they occur.
Data-driven analytics and insights are then used to notify managers and other stakeholders of any operational issues and then automatically raise work orders and schedule targeted maintenance technicians with the right qualifications to undertake the work.
Current preventative maintenance practises for commercial HVAC equipment and building energy systems require skilled technicians to periodically service systems and equipment (for example, every 3 months), even if there are no faults, or the issues identified could have been fixed by less-costly level of technician or on-site personnel with the right training to do the task. Not only is the current approach costly, the major shortage of skilled HVAC technicians across the industry is creating longer than necessary lead times for what could be urgent repairs.
By facilitating targeted maintenance when and where it's needed most, Airconnect is not only able to reduce maintenance costs and equipment down-time, but it ultimately increase HVAC system reliability and asset life, resulting in improved energy efficiency, occupant comfort and indoor air quality. Our patented system delivers better scheduling and utilisation of skilled maintenance personnel, along with it capturing equipment servicing as it is completed, giving you detailed Downtime, Response Time and Reliability Reports.
What Makes Our System So Smart?
Smart HVAC Maintenance is underpinned by three key components:  
Check out how
our data-driven AI-enabled Analytics intelligently diagnoses the issues identified and using built-in expert system knowledge, can then designate fault level notifications. Technicians can then measure and record temperatures, airflows and any repair works to feed back into your real-time AI-enabled Analytics.
Airconnect's cloud-based analytics utilises remote data monitoring and machine learning based Fault Detection & Diagnostics (FDD) for identifying issues as or before they occur. Further, Airconnect has been designed to plug-and-play with a majority of HVAC systems, and in particular, packaged units and split system equipment. These are often overlooked by other technology solutions due to data integration barriers.
Your HVAC equipment is easily integrated into the Airconnect Platform through inexpensive edge gateways, which securely harvest real-time operational data from disparate sources within a building (e.g., BMS, Energy Meters, IoT Sensors) to automatically identify faults, anomalies and system inefficiencies. These actionable insights are then used to automatically initiate the required maintenance works using the most suitably qualified maintenance personnel available.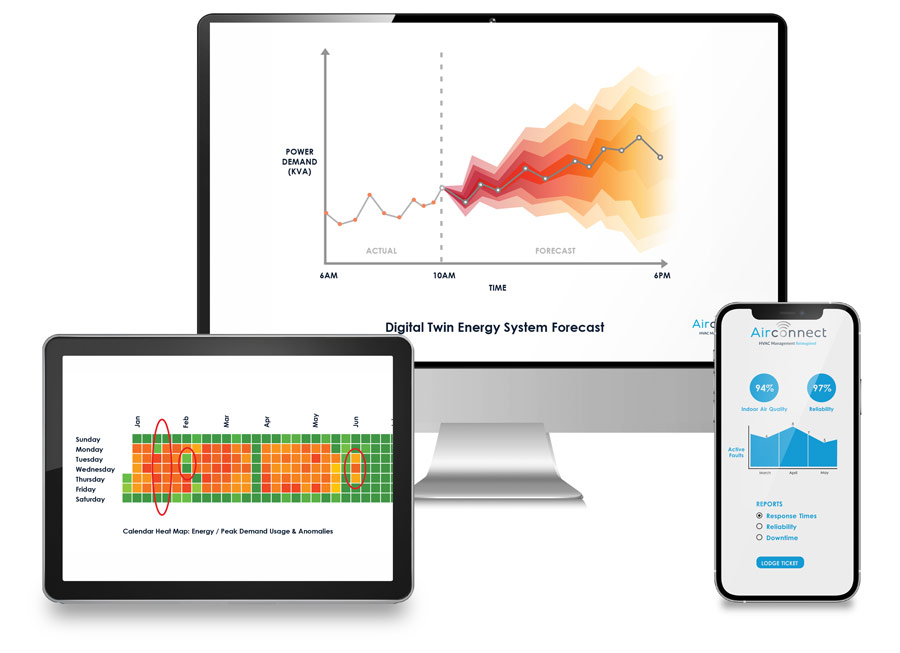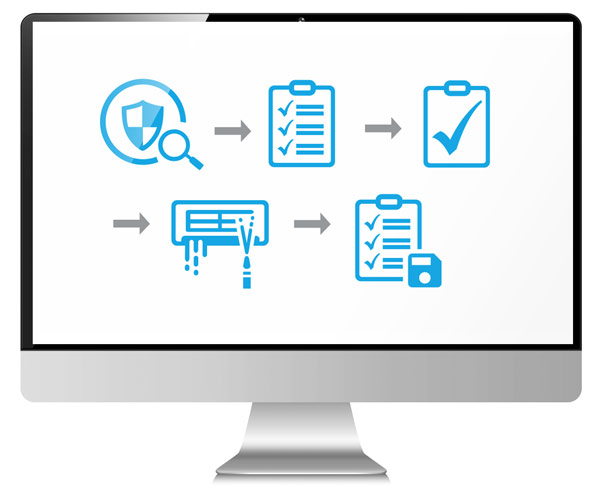 Maintenance Workflow Automation
When Airconnect automatically detects a fault, anomaly or system inefficiency, the software triggers a complete end-to-end maintenance workflow, automatically initiating  the maintenance works to be undertaken, scheduled and completed by suitably qualified maintenance personnel, all with minimal cost and delay.
Airconnect seamlessly integrates leading CMMS features to deliver an end-to-end maintenance management solution to its customers. This includes AIRAH's DA19 HVAC&R Maintenance inspection checklists, routine maintenance frequencies, and VBIS asset classification and discovery features as part of our standard solution.
Other built-in CMMS features include:
Computerised equipment records
Building information models (BIM)
Work order creation and management
Compliance checks (including DA19)
Time and cost tracking and automated procurement and billing.
All nominated stakeholders including building owners, facility managers, and maintenance contractors, receive relevant notifications every step of the way.
Triage Maintenance Response
When potential issues and faults are identified, our patented triage maintenance response[1] enables the automated review, triage, prioritisation, scheduling and deployment of maintenance personnel with  best-fit qualifications for undertaking the required maintenance works efficiently and at minimal time and cost.
Personnel who are licensed under the nationally recognised qualification (Certificate II – Airconditioning Hygiene NAT10829), will be able to competently perform a range of non-invasive HVAC maintenance works previously only assigned to skilled technicians. This landmark industry course developed and written by our founder, David Jones, not only helps reduce costs and lead times, it also frees up more highly skilled technicians to focus on the more critical maintenance and repair work so they are available when you need them, alleviating the pressure of HVAC technician labour shortages across the industry.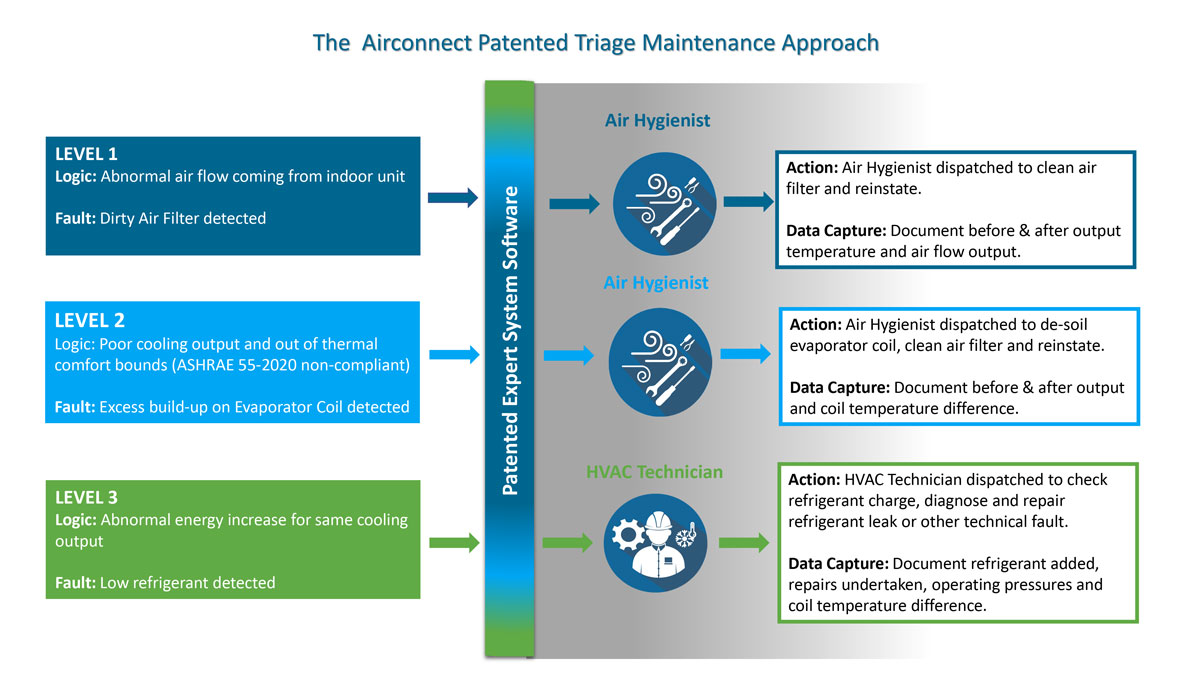 Are you ready to move your building into the digital age?
Click here to discover how we can embed our teams energy into your buildings!